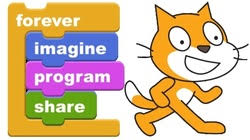 SCRATCH is a project of the Lifelong Kindergarten Group at the prestigious MIT Media Lab.
Scratch is the main program used and with it your child can program their own interactive stories, games, and animations — and share the creations with others in the online community. 27 million projects have already been shared globally.
Scratch helps young people learn to think creatively, reason systematically, and work collaboratively — essential skills for life in the 21st century.
As they complete each of the 12 skills, they get a sticker on their card. On completion of the 12 skills, they get their first certificate.

CODE.ORG
This is an online professional educational site with programming skills for 6 years upwards. It teaches real beginners how to click and drag, and various skills like looping, with fashionable games like Star Wars. Each student has their own login, where their work is recorded.
On completion of 500 lines of code they get a certificate presented to them in class. This is a great motivator for progress as they are so proud to bring it home.
RASPBERRY PI FOUNDATION PROJECTS
TOUCH TYPING
Many are enjoying practicing their touch typing using the popular award winning BBC Dance Mat. They get a certificate on completion of the 12 levels of the 4 stages.
There's a big improvement in the keyboard skills of those that do this course.